Leavenworth Condos in 2020
In early March of 2020 it became apparent that the coronavirus could likely have massive effects on the world economy including real estate markets in the United States.  By the end of March, Washington State was under a "Stay Home, Stay Healthy" order from the governor.
Real estate was soon dubbed an "essential service" and limited real estate activities would be allowed with new rules and restrictions.
In April and May of 2020, the landscape of the Leavenworth real estate market changed dramatically.  Many expected a general slow down of activity similar to the recession of 2008-10.
Over the course of my career, I've often found myself reminding folks that real estate is local and is made up of different parts and pieces that move in different directions at different speeds.  Such is the case with homes sales in Leavenworth, Washington in 2020.  The single family home market and the condominium market are behaving very differently.
I'll tackle the single family home market in another post.  The news for sellers though is very good. Demand has skyrocketed, sales are through the roof, and bidding wars are common.
Unfortunately, the Leavenworth condo market has not been as active.
As you can see in the chart only four condos have sold in the first five months of the year.  This is a dramatic shift from 2019's strong performance and is quite weak compared to slower years like 2017 and 2018.
In recent years, the lack of sales could often be attributed to lack of supply. Unfortunately, in 2020 supply appears to be outpacing demand significantly.  As of early June, nine condos are listed for sale and there is one pending sale.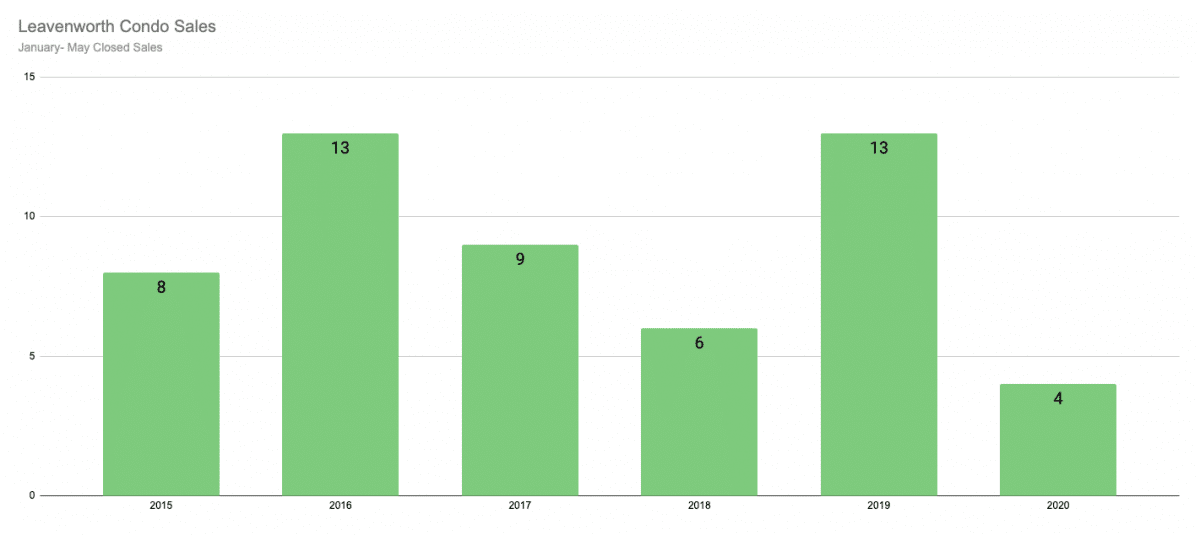 High inventory however, can be a blessing for buyers who have not had many choices in years past.  2020 may be an opportunity for buyers to buy a condo without engaging in a bidding war and though it's hard to guess how prices will be affected in the long run, the meteoric rise in values seems to have at least paused for the moment.
**********************************************************************************
Required Disclaimer NOTE: This representation is based in whole or in part on data supplied by the North Central Washington Association of Realtors or its Multiple Listing Service. Neither the Association nor its MLS guarantees or are in any way responsible for its accuracy. Data maintained by the Association or its MLS may not reflect all real estate activity in the Market.