Leavenworth Home Prices Spring 2020 Leavenworth Real Estate Report
When we wrote our first quarter report back in April we had only been in the first month or so of the coronavirus pandemic and we knew that it would have some unpredictable effects on real estate, both globally and locally.
There were some predictions that WFH (work from home) trends would allow some folks to move to the mountains and countryside away from the cities, but we had assumed this might be a longer term trend and not something we would see immediately.  In fact, as soon as buyers became more comfortable travelling away from home and safe procedures for viewing real estate were implemented, the Leavenworth real estate market took off like a rocketship.
In the Spring of 2020, pending sales, average and median home prices, and closed sales of single family homes in Leavenworth all jumped up.  Unfortunately, home sellers mostly stayed out of the market and new listings were down 27% compared to 2019, which had pretty tight inventory as well.
Buyers wanted second homes in Leavenworth that would allow them to home school and work from home away from the big city and close to the mountains and outdoor recreation.  They were highly motivated to purchase and close quickly in a way we haven't seen buyers act in the past decade.
This increased demand coupled with low inventory could only lead to one thing.  Bidding wars were quite common and most homes did not last very long on the market.  The average sold price of a single family home in Leavenworth increased 23% to $717,000.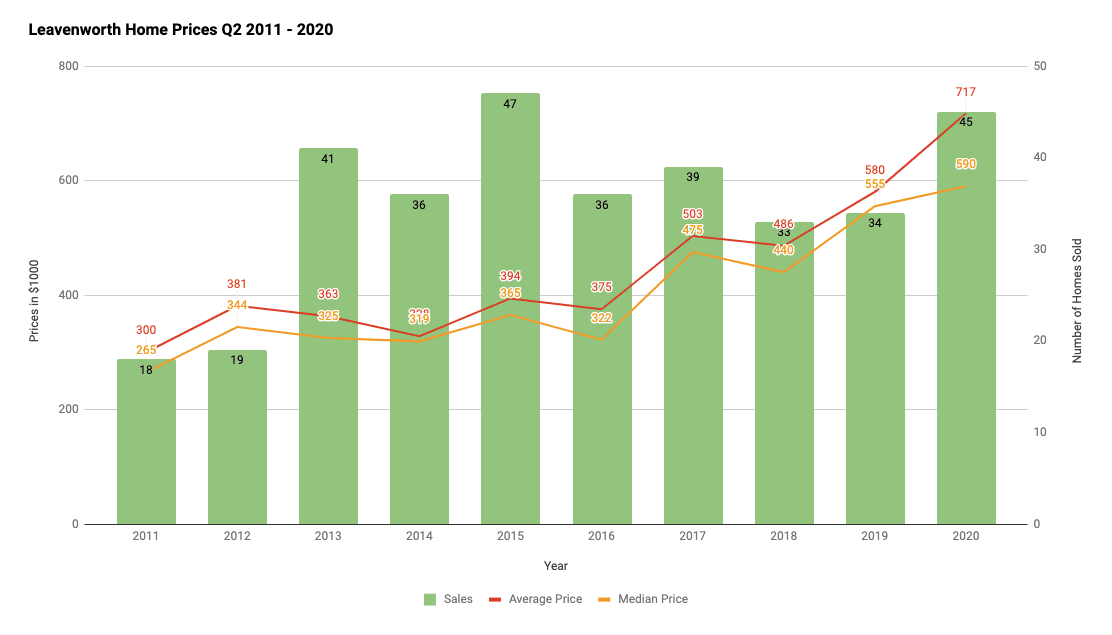 What will the summer months bring?
Low inventory will likely be the big factor and without new homes on the market for buyers to purchase, it's likely that the number of homes sold in Q3 could be quite low.
Currently there is uncertainty about schools reopening in the fall. If schools don't open or parents don't feel comfortable with letting their children attend, it's quite possible that we could see another large spike of demand at the end of summer prior to the start of the school year.
For sellers in Leavenworth, 2020 will likley continue to be a very strong seller's market with high buyer demand and record low inventory.
**********************************************************************************
Required Disclaimer NOTE: This representation is based in whole or in part on data supplied by the North Central Washington Association of Realtors or its Multiple Listing Service. Neither the Association nor its MLS guarantees or are in any way responsible for its accuracy. Data maintained by the Association or its MLS may not reflect all real estate activity in the Market.