Stevens Pass
DO PEOPLE LIVE AT STEVENS PASS?
Stevens Pass real estate is different than other real estate at other resorts. There are no slopeside condominiums or houses at Stevens Pass like you might see at other ski resorts around the country. The Stevens Pass ski area sits on land leased from the U.S. Forest Service. There is not a hotel at the pass for visitors to stay either.
There is a small amount of employee housing at Stevens Pass, but people do not really live at the pass itself.
A number of small communities or neighborhoods sit east of the Cascades between Stevens Pass and Lake Wenatchee. Stevens Pass real estate includes:
Yodelin
Merritt
Winton
Coles Corner
ABOUT STEVENS PASS
Stevens Pass is the border between Chelan County and King County and is the route that U.S. Highway 2 and Burlington Northern Rail Lines use to cross the Cascade Mountains.
Stevens Pass ski area is located at Stevens Pass and covers 1,125 acres of skiable terrain, including 37 major runs and numerous bowls, glades and faces. The ski area averages 450″ of snowfall each year. As many as six lifts are lit for night skiing.
In 2011, the Stevens Pass Bike Park opened for downhill mountain biking during the summer months. Currently there are 4 trails available and 2 more under construction.
The Stevens Pass Nordic Center is just 5 miles East of Stevens Pass (closer to Leavenworth) and includes 28 kilometers of groomed nordic trails as well as snowshoe routes.  The Nordic Center even hosts a biathlon race or two each year.
What city is Stevens Pass in?
Stevens Pass is on the border of King County and Chelan County and the ski resort sits in unincorporated King County. The address for Stevens Pass is in Skykomish, Washington in the 98288 zip code.
How far is Leavenworth from Stevens Pass?
It is 35 miles along U.S. Highway 2 to Leavenworth from Stevens Pass.
STEVENS PASS SKI AREA FACTS
Base area elevation 4,061′
Top elevation Cowboy Mountain 5,845′
Mill Valley base elevation 3,821′
1,800 vertical feet on three sides of two different mountains.
Current Road Conditions At the Pass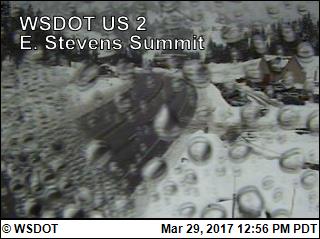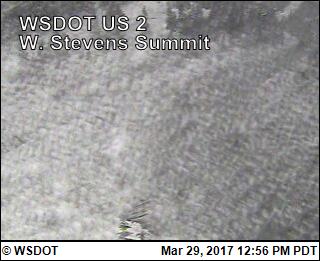 Click Here for complete WSDOT Road Conditions
5 miles east of the pass is the Stevens Pass Nordic Center which features 25 kilometers of groomed skiing on 16 trails.