2020 Leavenworth Home Prices | 1st Quarter Market Report
Leavenworth's real estate market in the first quarter of 2020 began with the common theme of high buyer demand and low inventory.  This is very typical of the Leavenworth area where many sellers take their homes off the market for the winter months and re-list in the spring.
While challenging to quantify, we have anecdotal evidence that motivated buyers and their brokers were scouring the MLS to find these off market homes and writing offers on them. Two of our sellers benefited from this high demand, which seemed higher this year than in years past.
While we do expect the current coronavirus pandemic to have an effect on the Leavenworth real estate market and 2020 Leavenworth home prices,  we won't see this in the first quarter statistics. The lag time of 30 to 45 days on residential closings means that buyers wrote offers on most of these homes prior to the end of February.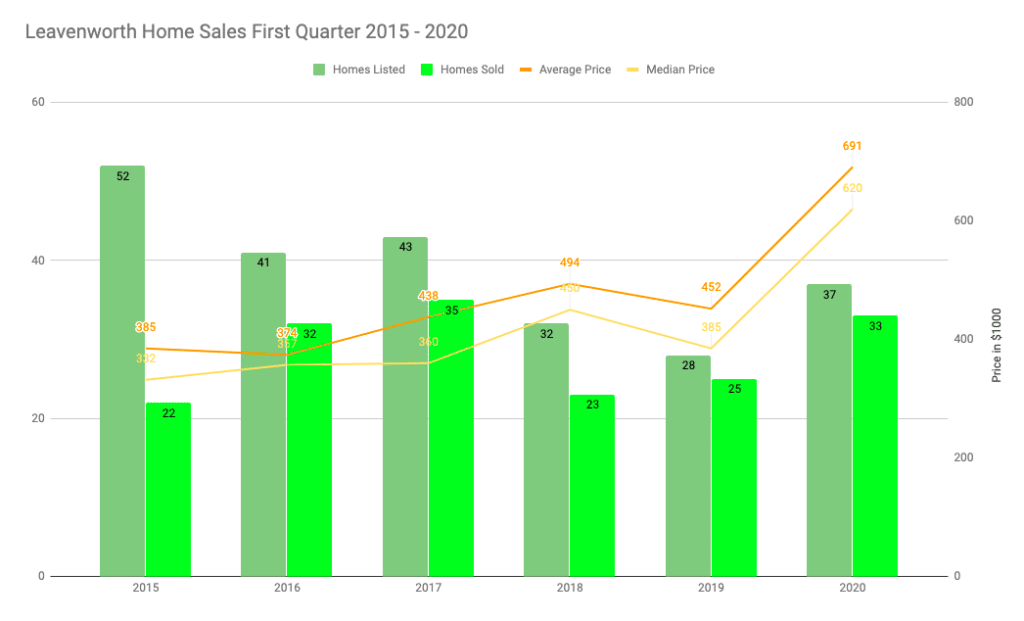 Much of the activity in the first quarter was in the luxury sector of the market. Five homes sold for more than $1,000,000 in these first three months of 2020.  This had a dramatic effect on both the median sales price (up from $385,000 in 2019 to $620,000) and the new average price of $691,000 (up from $452,000.) (For perspective, only ten homes sold above $1 million in Leavenworth in 2019 and there were seven in 2018.)
This spike in 2020 Leavenworth home prices should not be seen as a trend and will likely look even more out of place if second quarter sales activity is depressed.
What will the second quarter bring? It's too early to tell, but it's safe to assume that both listing and pending activity will be down in April based on the current "stay at home" directives.  It's certainly possible that pent up demand from April will result in strong numbers for May and June, but predicting the length of the "stay at home" order is difficult.
**********************************************************************************
Required Disclaimer NOTE: This representation is based in whole or in part on data supplied by the North Central Washington Association of Realtors or its Multiple Listing Service. Neither the Association nor its MLS guarantees or are in any way responsible for its accuracy. Data maintained by the Association or its MLS may not reflect all real estate activity in the Market.