2022 Leavenworth Home Prices – First Quarter Report
All real estate is local and while global events grab the headlines in the newspaper, sometimes a big local event can have a lasting impact too.
In early January, a massive snowstorm walloped Central Washington that was actually worthy of the "snowpocalypse" hype. In 1919, Leavenworth received 38 inches over a 48 hour period but in 2022, that record was shattered. An unbelievable 56 inches of snow fell over a two day period, with outlying areas receiving even more.
What does this have to do with real estate and 2022 Leavenworth home prices?
Everything in Leavenworth ground to a halt in January. It took weeks to dig out from the snow. Plows and snowblowers broke. Garden sheds and carports collapsed under the weight.
We don't see lots of new listings in January or February, but we saw even less this year. Similar to last year, only 33 homes came on the market in the first quarter. However, 18 of these came in March, which meant they weren't likely to close until April or May.
Some in the media might report a slow down in the real estate market or notice a huge drop in the number of homes sold this year. Unfortunately, this type of reporting without analysis misses the point and is misleading. The massive increase in 2022 Leavenworth home prices is testament to the continuation of trends we have seen since 2020. Incredible demand continues to outstrip supply in the Leavenworth real estate market.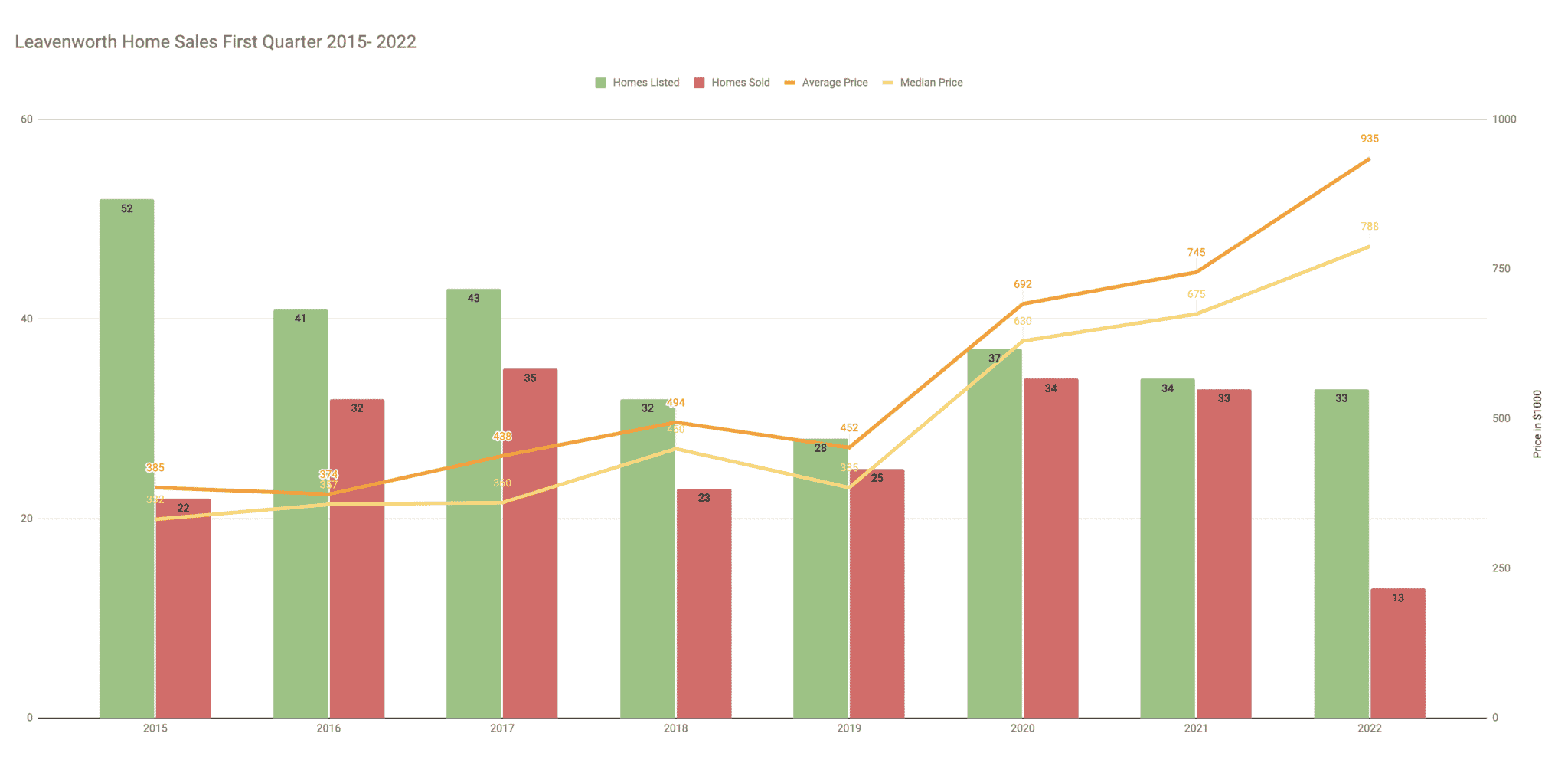 The median price of a single family home in Leavenworth was $788,000 (up 16% from $675,000 in Q1 of 2021 ) and the average sold price in Leavenworth was a staggering $935,000 (up 25% from $745,000).
As we come into the busy season for real estate, it seems likely that these trends will continue. High demand and record low inventory will cause home prices to continue to increase. Bidding wars will remain common and 2022 will be a very strong market for sellers and a challenging one for home buyers.
Required disclaimers:
Information and statistics derived from Northwest Multiple Listing Service. Additionally, this representation is based in whole or in part on data supplied by the North Central Washington Association of Realtors or its Multiple Listing Service. Neither the Association nor its MLS guarantees or are in any way responsible for its accuracy. Data maintained by the Association or its MLS may not reflect all real estate activity in the Market.