2021 Leavenworth Home Prices
Leavenworth home prices continued their ascent in 2021 fueled by the same factors that we saw in 2020, though perhaps at not quite as dramatic a pace. Buyer demand remained very strong and limited inventory caused prices to climb.
The number of homes sold in the Leavenworth area dropped from 193 to 171, which is very similar to 2019's number. Demand continued to be very high and the number of sales was constrained by the reduced number of homes available to purchase.
The average price of a single family home in Leavenworth, Washington continued to climb to a new record. The average Leavenworth home sold for $819,000 in 2021 which is up 13% from $722,000. The median sales price in Leavenworth is up to $705,000 from $620,000 in 2020.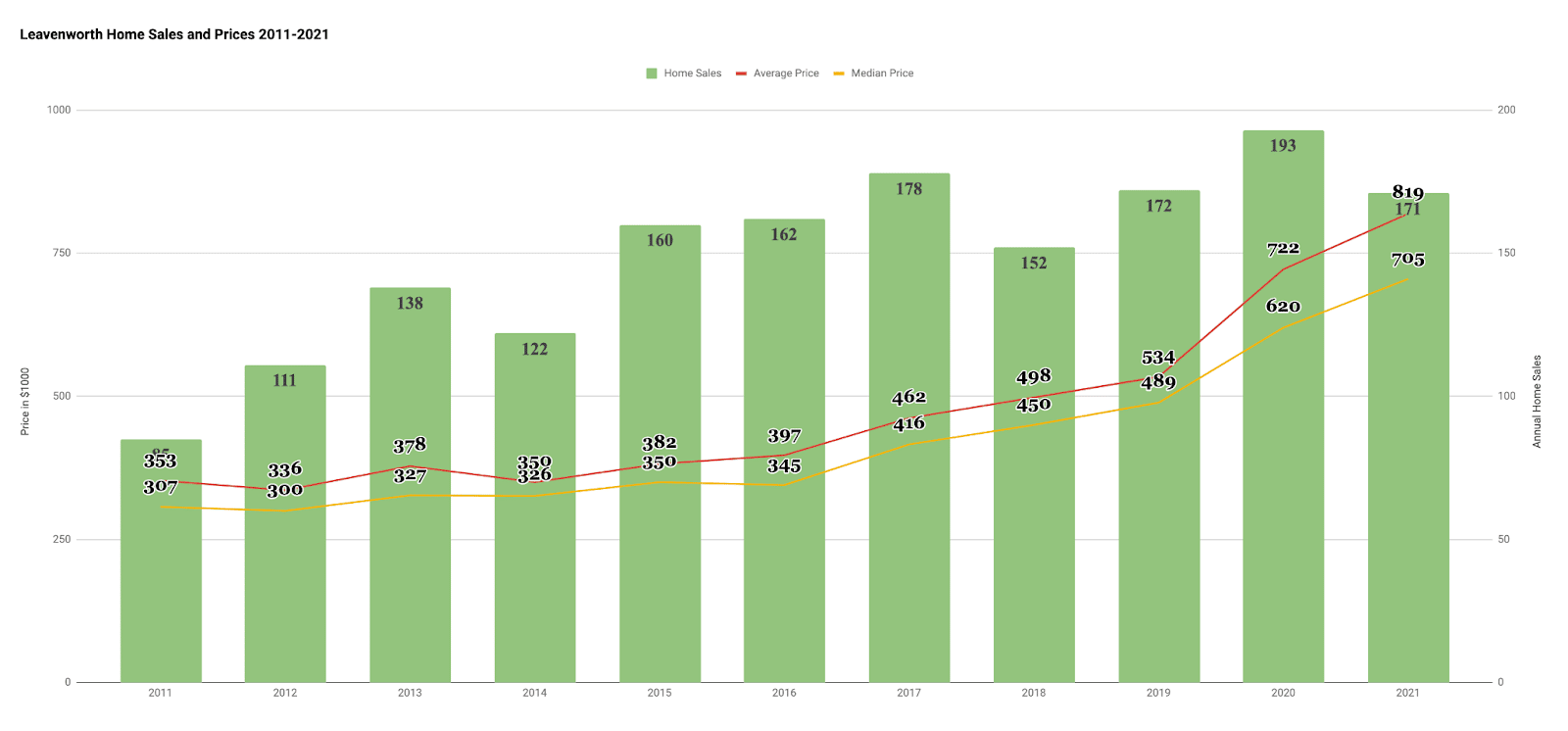 High home prices are often expected to cause a number of reactions in the marketplace. Some buyers will drop out of the market when prices make a purchase unobtainable and new sellers will list their homes when high sales prices look attractive to them. Homebuilders will also try and build more homes to take advantage of high prices.
The record home prices certainly dissuaded some homebuyers and caused them to halt their home search or choose to look in another location. However, demand remained very strong and any homebuyers leaving the market were easily replaced by new buyers entering it.
New construction has helped a small amount in recent years, especially the homes on lower Ski Hill, but it's a tiny drip in the bucket. Nine new construction homes sold on the MLS in 2020 and that number jumped to 15 in 2021.
Unfortunately, the total number of new homes listed throughout the year was down from 239 to 182. The addition of 6 new construction homes doesn't have much of an effect when compared to an overall loss of 57 listings year over year.
What does 2022 have in store for the Leavenworth real estate market? Given the high uncertainty around the pandemic, we are loath to make any bold predictions. However, it seems likely that high demand and low inventory will likely continue to be the headline for another year unless some unforeseen global event causes a catastrophic decline in consumer confidence.
**********************************************************************************
Required Disclaimer NOTE: This representation is based in whole or in part on data supplied by the North Central Washington Association of Realtors or its Multiple Listing Service. Neither the Association nor its MLS guarantees or are in any way responsible for its accuracy. Data maintained by the Association or its MLS may not reflect all real estate activity in the Market.