Leavenworth Home Prices 3rd Quarter 2021
It's hard not to write about the Leavenworth real estate market and not use a clickbait style headline to gain the reader's attention.
"Home sales drop to lowest number in 8 years!"
"Home sales drop 43%!"
"Average home price in Leavenworth nearly $1 million!"
"Leavenworth home prices soar 46%!"
All of these statements are true, but none really get to the heart of what is going on in the Leavenworth market.
Like most real estate markets around the country, inventory has been very limited.  In 2020, we saw massive demand outstrip the supply which led to huge price increases.  In 2021, we have seen the number of new listings drop 20 % compared to 2020.  If there are less houses to choose from, less houses will sell.
Looking at the chart, the number of home sales in the 3rd quarter of 2019 and 2020 were at record levels. Our 2021 sales for the quarter are below average, but they only look tiny compared to these record years. Compared to the rest of the decade, they are only slightly depressed.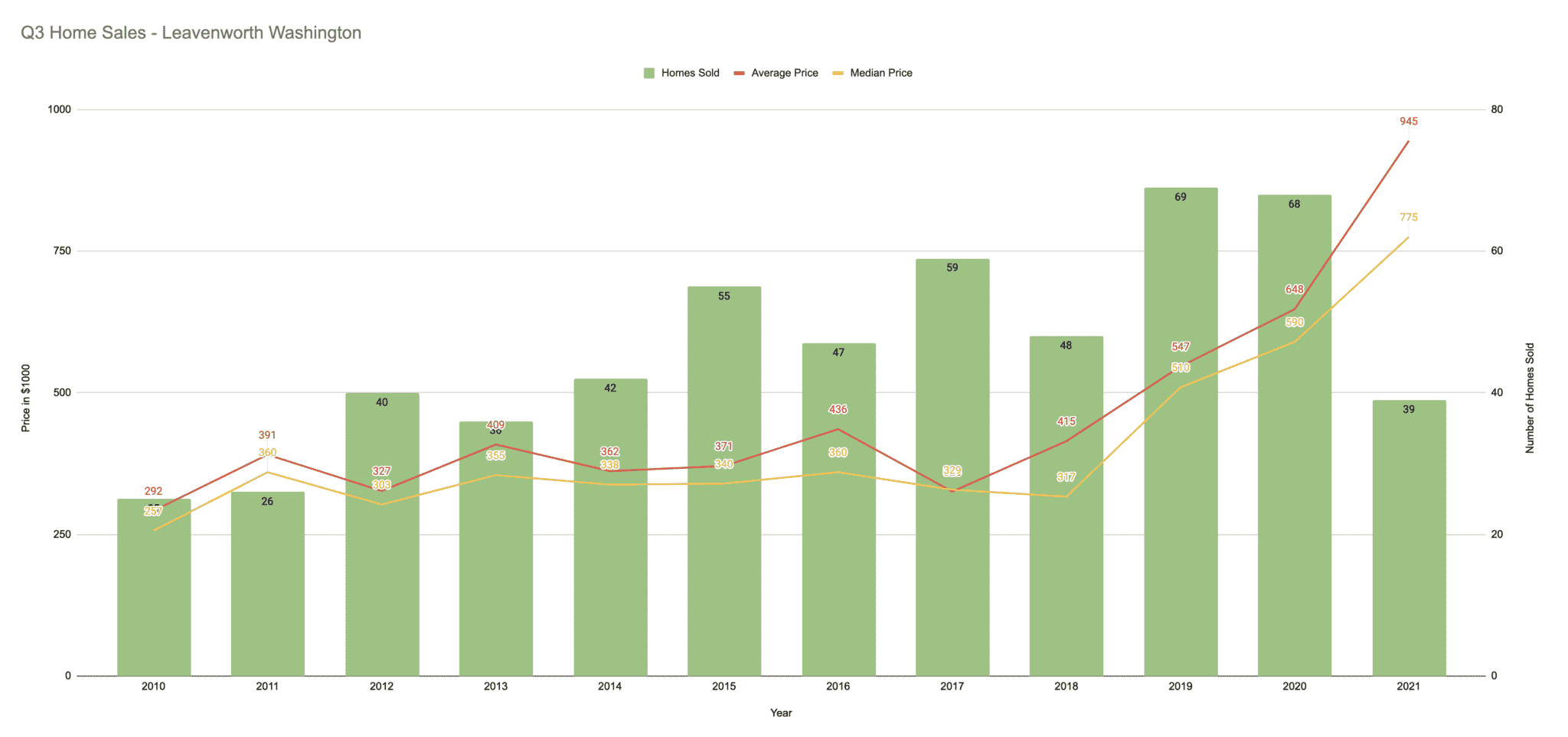 A more careful examination of home prices also tells another story.
While the average home price in Leavenworth rose 46% from $648,000 to $945,000 the median home price grew 31% from $590,000 to $775,000.
At the same time, the median sold home grew in size from 2040 sqft to 2344 sqft. The price per square foot of a median home increased from $289 to $330 or 15% compared to last year during the same period.
This 15% increase in price is probably the best representation of the current trend for home prices in Leavenworth in 2021.  A 45% year over year price increase sounds incredible and it really is, but that's not really the whole story.
So what are the takeaways for the Leavenworth real estate market in 2021?
Less homes for sale, means less homes were bought
The homes that did sell were bigger than last year.
Most homeowner's values likely increased 15-20% not 45%.
**********************************************************************************
Required Disclaimer NOTE: This representation is based in whole or in part on data supplied by the North Central Washington Association of Realtors or its Multiple Listing Service. Neither the Association nor its MLS guarantees or are in any way responsible for its accuracy. Data maintained by the Association or its MLS may not reflect all real estate activity in the Market.