2019 Leavenworth Home Prices
2019 was another strong year for real estate sales in Leavenworth, Washington. High demand and low inventory continue to push both median and average prices higher for single family homes.  The number of total home sales is up year-over-year, but has stayed fairly consistent for the past five years.
The average home price in the the Leavenworth area has climbed to a record $542,000 and the median Leavenworth home price is now $500,000.  This is the first time that either has surpassed the $500,000 mark. (These numbers are for single family homes, not condominiums or manufactured homes, in the Leavenworth zip code, including Plain and Lake Wenatchee.)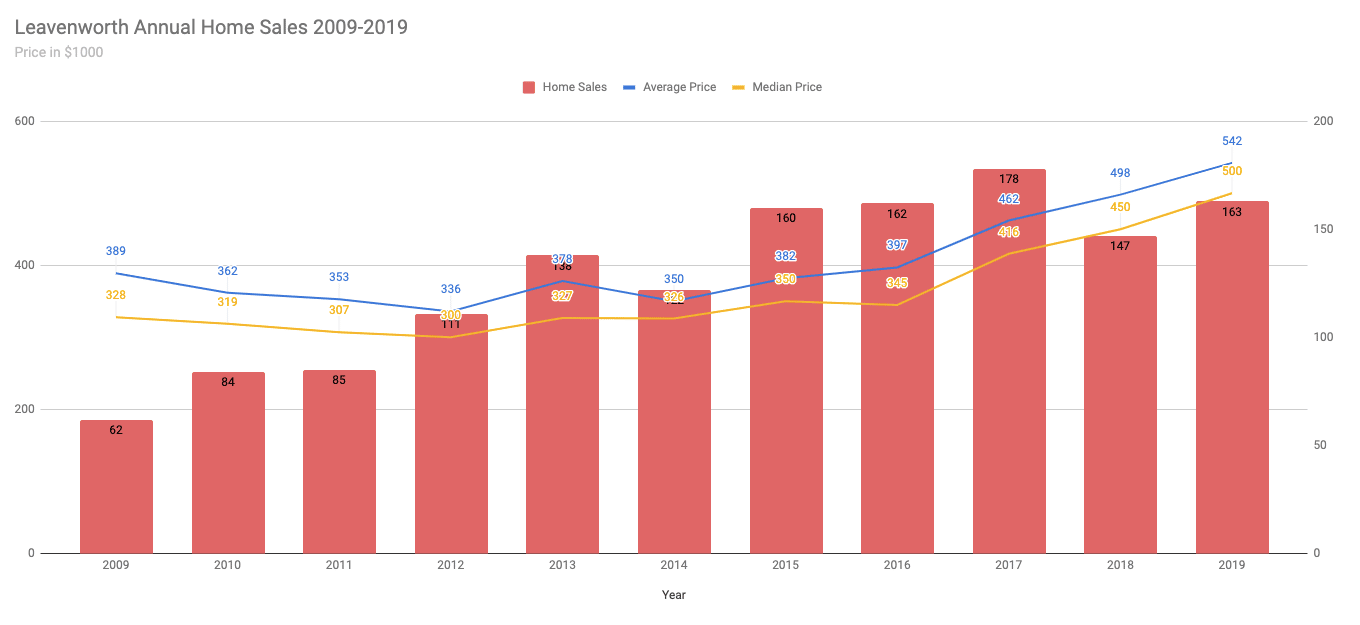 Unlike other areas, new construction plays only a very small role in our market. In 2019, only five newly built homes sold via the MLS.  This is approximately 3% of the home sales in Leavenworth. Nationally, new construction has been about 11% of total home sales.
What can we expect for 2020?  Barring any catastrophic events, current indicators suggest a very similar year. Consumer confidence in the U.S. remains very high and the stock market is doing well.  New construction, especially on Ski Hill, is adding some inventory, but not enough to create an oversupply like we saw with the condo market in 2006.
2020 will likely be another strong year for sellers and a challenging one for buyers with limited supply and increasing home prices.
**********************************************************************************
Required Disclaimer NOTE: This representation is based in whole or in part on data supplied by the North Central Washington Association of Realtors or its Multiple Listing Service. Neither the Association nor its MLS guarantees or are in any way responsible for its accuracy. Data maintained by the Association or its MLS may not reflect all real estate activity in the Market.