Leavenworth Washington Condominium Sales in 2019
When reviewing the 2019 real estate trends for Leavenworth, the large number of condo sales really sticks out. 2019 was the year of the condo re-sales. 32 condominiums sold in Leavenworth in 2019 with an average sales price of $349,000.  We are also proud to share that Geordie Romer listed and sold more condos in Leavenworth in 2019 than any other broker.
Leavenworth condo sales weren't driven by an oversupply of new construction projects like we saw being built in 2006 and 2007, but instead by strong demand and good resale value.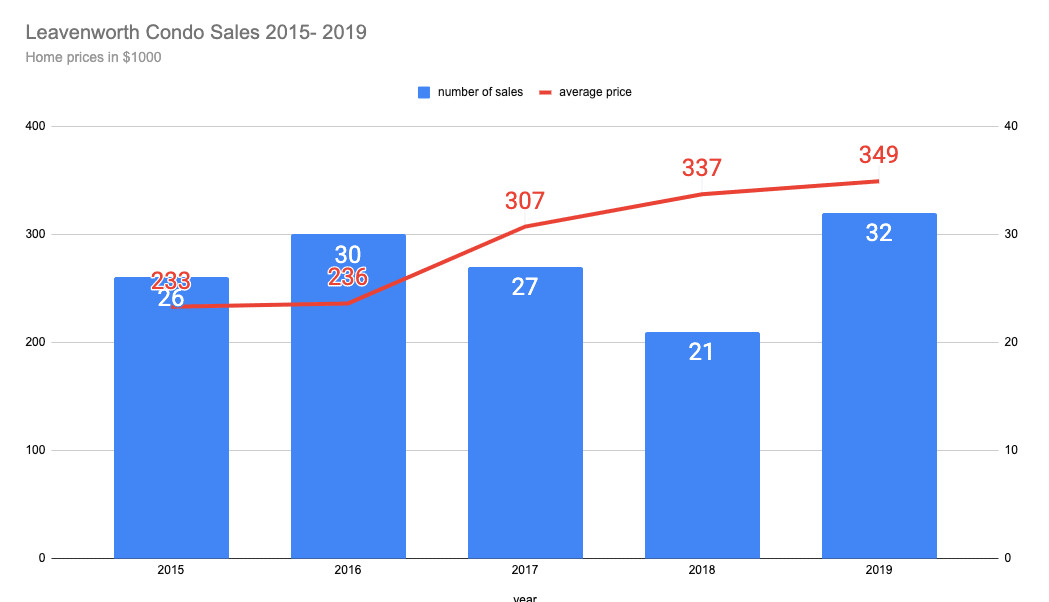 While condo prices have been steadily increasing, the number of sales has recently seen a slight downtick. This is likely due to a limited amount of supply.  New condo projects are rare in Leavenworth and sellers have been reluctant to sell in previous years.
The sales were fairly evenly distributed among the four basic types of condominiums we see in the Leavenworth market.
Condo-tels (like those at Icicle Village Resort/ Junction Lane) : 7
In town condos that can be vacation rentals: 10
In town condos that cannot be rented nightly: 7
Kahler Glen, including Natapoc : 9
What will 2020 bring to the Leavenworth condo market? With continued low inventory and no large projects on the horizon, it seems safe to assume that condominium prices will continue to increase and robust  demand will keep sales strong if sellers continue to list their homes for sale.
**********************************************************************************
Required Disclaimer NOTE: This representation is based in whole or in part on data supplied by the North Central Washington Association of Realtors or its Multiple Listing Service. Neither the Association nor its MLS guarantees or are in any way responsible for its accuracy. Data maintained by the Association or its MLS may not reflect all real estate activity in the Market.