Leavenworth Washington Home Prices Spring 2019
Spring home sales in Leavenworth remained strong this year, despite a late appearance by Old Man Winter in February.  The number of closed sales was nearly identical to the same period in 2018 and both median and average home prices increased dramatically.  The average sold price for a single family home during this 3 month period climbed to $580,000 for a home in the Leavenworth zip code, while the median price rose to $550,000.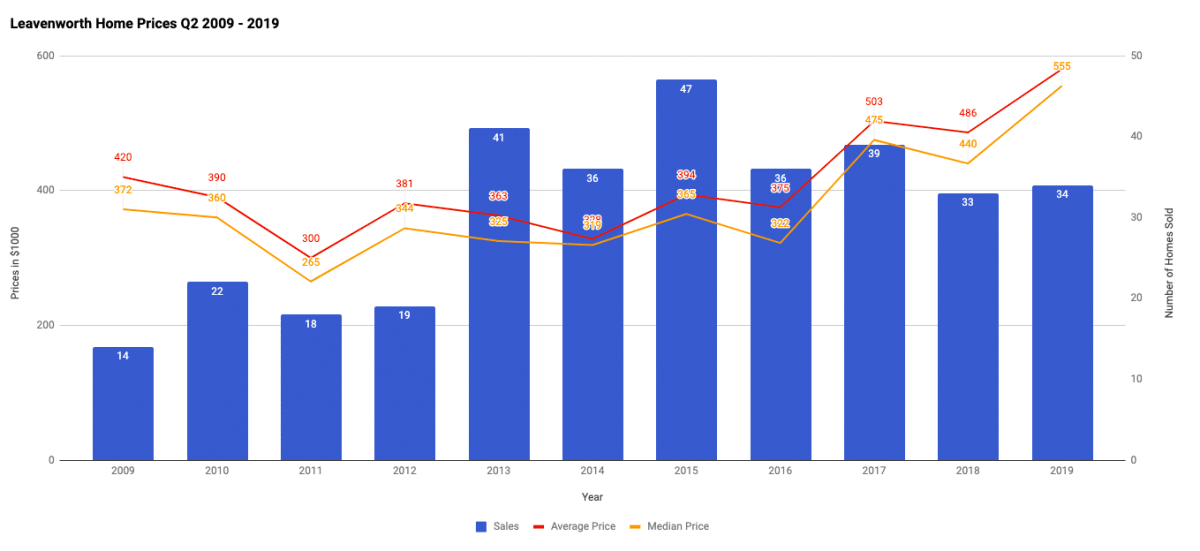 Other indicators are harder to measure and anecdotal evidence seems to point to a cooling market.  Price reductions for unsold properties appear to be increasing and the number of bidding wars and multiple offer scenarios has decreased since last year.
A quick survey of the 34 sold homes shows that 30% of the homes required at least one price reduction while 44% sold for less than asking price without a change to their listed price. Meanwhile only 18% sold for their original asking price and 9% sold for above asking price.  This means that only 3 single family homes sold above asking price in the spring quarter.
Similarly we have seen list price to sales price ratios which have dropped from 98% to 95% compared to last spring.
But a "cooling market" isn't the same as a recession.
In all likelihood, we are seeing a return to a more balanced market with more choices for buyers and sellers who need to negotiate in order to sell their homes.  There are unlikely to be many "bargains" in the local market and home sellers who properly price and prepare their home for sale are likely to find success.  Competition among buyers will probably remain high for moderately priced homes, both inside the city limits of Leavenworth and for cabins in the Plain and Lake Wenatchee area.
**********************************************************************************************************
Required Disclaimer NOTE: This representation is based in whole or in part on data supplied by the North Central Washington Association of Realtors or its Multiple Listing Service. Neither the Association nor its MLS guarantees or are in any way responsible for its accuracy. Data maintained by the Association or its MLS may not reflect all real estate activity in the Market.