2020 Leavenworth Home Prices
2020 was an unexpected and unprecedented year in every way imaginable.  No part of our lives or the economy was left unchanged from 2019 and real estate, especially in Leavenworth, was no different.  Massive demand led to a huge increase in 2020 Leavenworth home prices.
In the early spring months of March and April, we assumed that lockdowns and stay at home orders would devastate the real estate industry and that we would return to recession levels of home sales.  As time went on, new rules for operating safely were established and not only did the real estate sector survive, it thrived.
Across the country, buyer demand for homes skyrocketed and inventory remained at record lows throughout 2020.  Locations popular for vacation homes, like Leavenworth, turned into "zoomtowns" and folks decided to relocate and work from home and homeschool in a new location, away from the big city.
This massive increase in demand, coupled with an existing lack of homes for sale, made for an extreme seller's market.  2020 Leavenworth home prices, for both average and median home prices, reached dizzying new heights in 2020.
2020 Leavenworth Home Prices Soar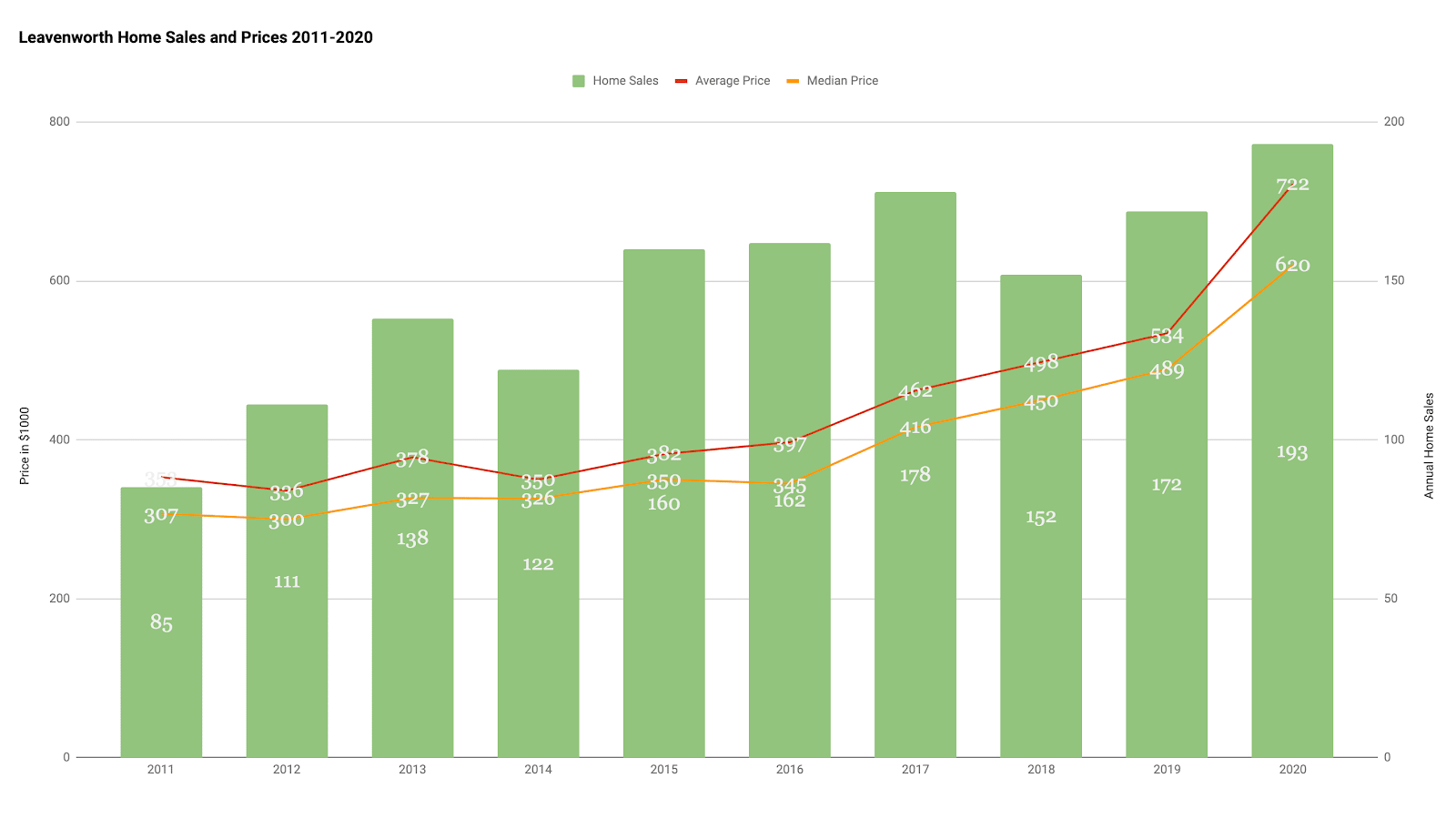 The average Leavenworth home price was $722,000. This is an incredible 35% increase from 2019's average price of $534,000.
The median sales price was also up 27% from $489,000 to $620,000.
While there was much talk of this price increase being driven by the lack of homes for sale in Leavenworth, the number of sold homes tells a different story.  192 homes sold in Leavenworth in 2020 which is a new record and up 12% from 2019.  High demand for homes appears to be the biggest driver of home prices.
What will 2021 bring? If 2020 taught us anything, then we know how difficult it can be to make annual forecasts. However, it seems safe to assume that demand for homes in the area will continue to be strong and prices are likely to follow.  20-30% price increases are extreme, so it would be unlikely to see those continue, but 2021 will likely be another tough year for homebuyers in the Leavenworth market.
**********************************************************************************
Required Disclaimer NOTE: This representation is based in whole or in part on data supplied by the North Central Washington Association of Realtors or its Multiple Listing Service. Neither the Association nor its MLS guarantees or are in any way responsible for its accuracy. Data maintained by the Association or its MLS may not reflect all real estate activity in the Market.